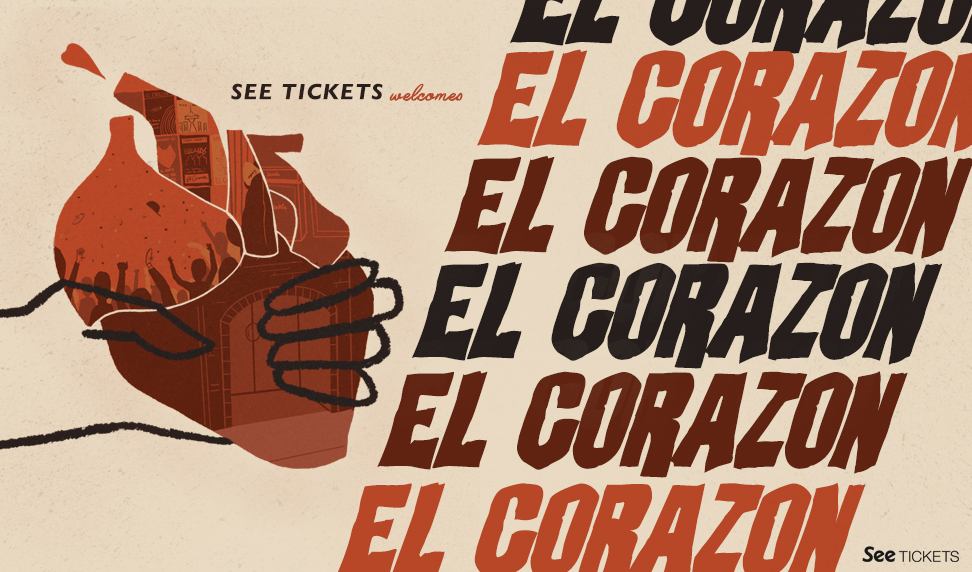 See Tickets Welcomes El Corazon: Bringing Seattle's Historic Loud Rock Legacy To All Ages
Story by Fred Pessaro
Poster Design by Zack Bolotin
In the era of Twitter and social media dominance, we live in total hyperbole– everything is "epic" or "insane". So when hearing about a space hailed as a historical and crucial part of a major city's music scene, it's understandable to be skeptical at first. In the case of Seattle's El Corazon and the Funhouse, its sister venue located in the very same building, you can believe that it is 100% true. "A lot has gone down in that room," recalls owner Dana Sims. "Benny Goodman and Ray Charles played that room way back in the day. Heart played there. Hendrix played there. Pearl Jam played four of their first five shows there. Alice in Chains, too. It was the epicenter of the grunge explosion. Pretty much everything had happened in the world of grunge and putting Seattle on the map happened in that room."

Whether known as El Corazon, Sub Zero, Off Ramp, Eastlake East Cafe or Au Go Go, the space located at 109 Eastlake Ave East has been a live music venue, dance hall, club, bar, and at all times, a cornerstone of the Seattle area music scene since the early 20th century. Immortalized in scenes from the Cameron Crowe classic Singles about Seattle in the grunge 90s, El Corazon is known by many as "the CBGB's of Seattle." The club's primary client base is the independent music community, acting as the hub for punk, metal, hardcore, and outer music communities since opening on Feb 4th, 2005. In the fifteen years that followed, the venue has played host to thousands of gigs including all-ages (though patrons with proper ID can still get a drink at the room's bar) events with major names like Chris Cornell, Ghost, Mastodon, Skinny Puppy, and many many more. El Corazon is an institution for any age in the Seattle area and by default, for the US writ large. Blame it on Dana Sims, music industry vet, and heavy music enthusiast.
At a young age,
Sims was exposed to live shows and even was snuck into bar gigs while underage. It was these moments that formed Sims' basic outlook on music and would eventually shape his own approach toward gigs at El Corazon and the Funhouse. "I started playing drums at age 5 and playing bars at 13," recalls Sims about his music-rich history. "My first shows as a kid were Pat Benatar with David Johansen and Ozzy Osbourne with Randy Rhoads three weeks before he died, and Black Sabbath as part of the Mob Rules tour. My first club show was when my mentor managed to sneak me in to see Ratt about a month or so before Out of the Cellar hit. I was definitely underage, but that moment changed my view on music forever. I never understood why it would be OK for me to play at a bar, but I couldn't attend a show at one."

After playing in a band as part of the then exploding Sunset Strip scene, Dana Sims eventually moved to Seattle just in time to see grunge's effect on Seattle.
Sims would become a part of an iconic Seattle label's executive team, where his tenure would last more than a decade. As the label shifted more and more toward indie rock acts and away from the heavy music that was at the core of his interests, Sims wanted to return to his loud rock roots. Eventually, he approached a local venue owner, offering to take a spot as booker after the two previous bookers defected to another. "He had just lost his talent buyers, and I told him I would do it," recalls Sims about his time at former Seattle club Graceland. "I had never booked before, but I had all the contacts in the heavy music world– I just dealt with those people wearing a different hat. And so he gave me a shot to buy for the room with the idea that we would keep the same sort of programming and keep it all ages. A few years later the owner had some family-related issues to deal with, so I got a partner and we purchased it. The last show as Graceland was on New Year's Eve 2004 and it was renamed El Corazon thereafter."
Through the years, the building housing El Corazon and its sister venue reigned as a premier spot in Seattle for all things punk and metal, truly somewhere that fans of loud rock can call home. Now that the pandemic's grip has thankfully started to loosen from the neck of live music, the venues at 109 Eastlake Ave East slowly started to line up touring acts to each of its storied venues. Returning the historic site to its former full glory will take time and effort, but Sims is readying El Corazon and the Funhouse for a possible initial onslaught of customers ready to welcome live music back. "We definitely support the local scene but our bread and butter is made from touring acts," says Dana Sims pensively. "To get that ball rolling and to get the bar back to full speed is going to take a large investment in time. But I think it's going to be gangbusters once it reopens."
Let See Tickets Welcome You