Great American Music Hall:
San Francisco's grand nightclub with a risque past
- Story by Aaron Carnes - Poster by cweird.com -
Photo Credit: Rob Coons - Artist: Amyl & Sniffers
The Great American Music Hall is one of the longest-running independent music venues in San Francisco. This year, the club celebrates its 50th anniversary and the building's 115th birthday. Though everyone from Duke Ellington to Grateful Dead has stood on its stage, what makes the club truly unique is its striking ornate interior. And the history that created it.
Delicately carved balconies. Corinthian, gilded pillars. Gold-leaf trim. Speakeasy-style chandeliers. Elegant frescoes. Lavish mirrors. Rococo woodwork. It's a delightfully shocking contrast to its humble exterior in San Francisco's tenderloin district; a 650-capacity rock 'n' roll venue unlike anything you've ever seen. You might have seen this level of detail in a plush 3,000-seat theater. It would never make fiscal sense to put so much elaborately detailed work into a small rock space.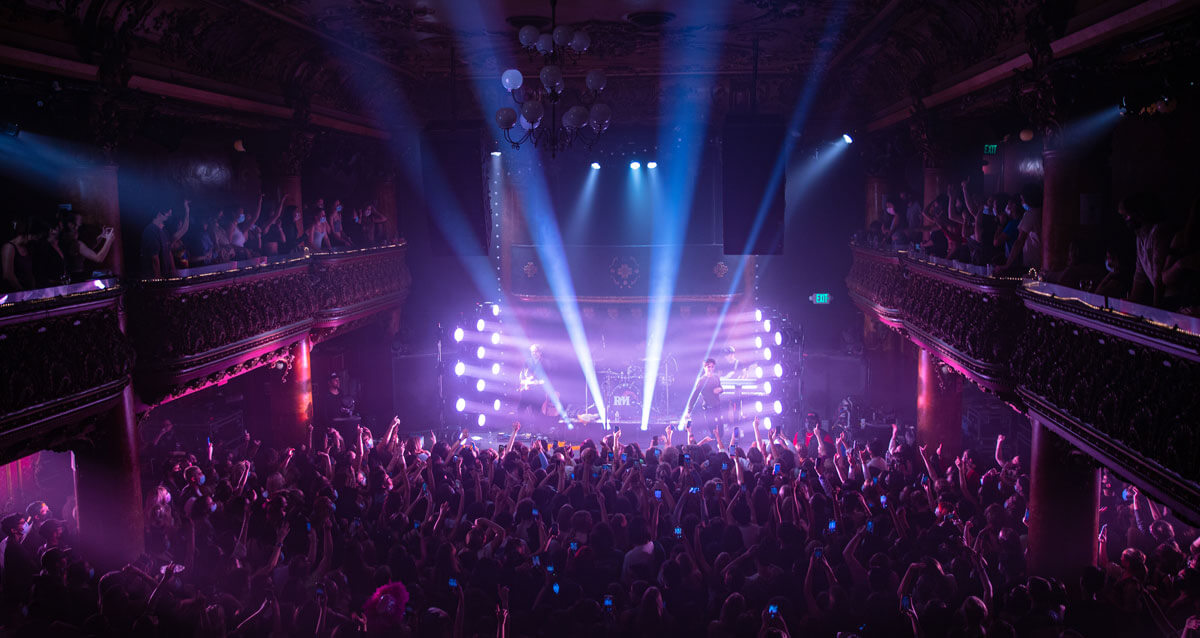 Photo Credit: Rachel Ziegler
The club has survived many ups and downs over the years. In its current state, The Great American Music Hall is a cutting-edge venue that welcomes new voices, while maintaining a strong connection to its long and bizarre past.
"Many legendary performers still have a connection to it and want to play here, whilst at the same time we've recently had artists like Billie Eilish and Dua Lipa play here," says talent buyer, and General Manager Fred Barnes. "It's a total mix and match, an extremely diverse calendar. You can literally have Norwegian death metal going one day and a classical string quartet the next. Artists who've played here love it and want to come back and tell other people about it."
The story of the club goes back to the devastating 1906 San Francisco earthquake. During a major rebuilding phase in the city, notorious political organizer Chris "Blind Boss" Buckley opened Blanco's Café, named after the well-known Barbary Coast brothel. Buckley hired French architect A.W. Edelman to create its lavish interior. Blanco's offered fine food, prostitution, gambling, booze, and live jazz for, presumably, the city's elite.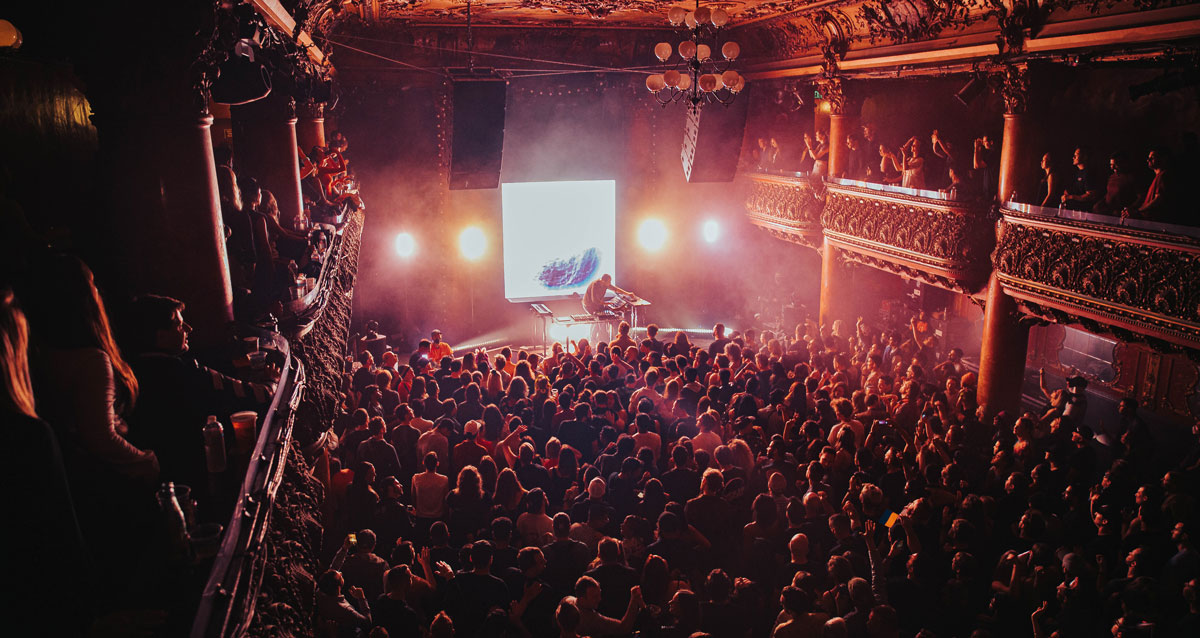 Photo Credit: Rachel Ziegler
In 1936, it changed hands to local burlesque dancer Sally Rand, famous for her erotic ostrich feather fan and bubble dance routines. She was often the featured dancer at this new venue, The Music Box, and performed with a chorus of girls. For a while, it was the spot in town. The Music Box lasted a decade. During its remaining pre-Great American Music Hall days, the building operated as a moose lodge, the first desegregated club in SF (Blanco's Cotton Club) as well as a fancy French restaurant called Charles. The restaurant owner, Charles Robert, skipped town, due to tax evasion, and Tom Bradshaw purchased it through an IRS auction, transforming it into the Great American Music Hall in 1972.
"It's weathered all storms," says Barnes. "When I came here from England, I couldn't believe it. I'd heard of it, but in person I couldn't believe it. I've never seen a venue of this size like this. It won't happen again."
Jazz was a major component of the original Great American Music Hall. And many greats played on the stage. Duke Ellington had his own dressing room, which remains intact with his name still on the door. But Bradshaw broadened the acts to include rock, folk, and blues, like Van Morrison, B.B. King, Ry Cooder, and Journey, who debuted their 1974 lineup at the club. In the early years, numerous live recordings were made, perhaps most famously, the Grateful Dead's live album, One From The Vault, which was recorded in 1975. And Robin Williams infamous HBO special, An Evening With Robin Williams, in 1982. During his set, he cracked several jokes about the club's interior. ("The Sistine Chapel designed by Frederick's of Hollywood.")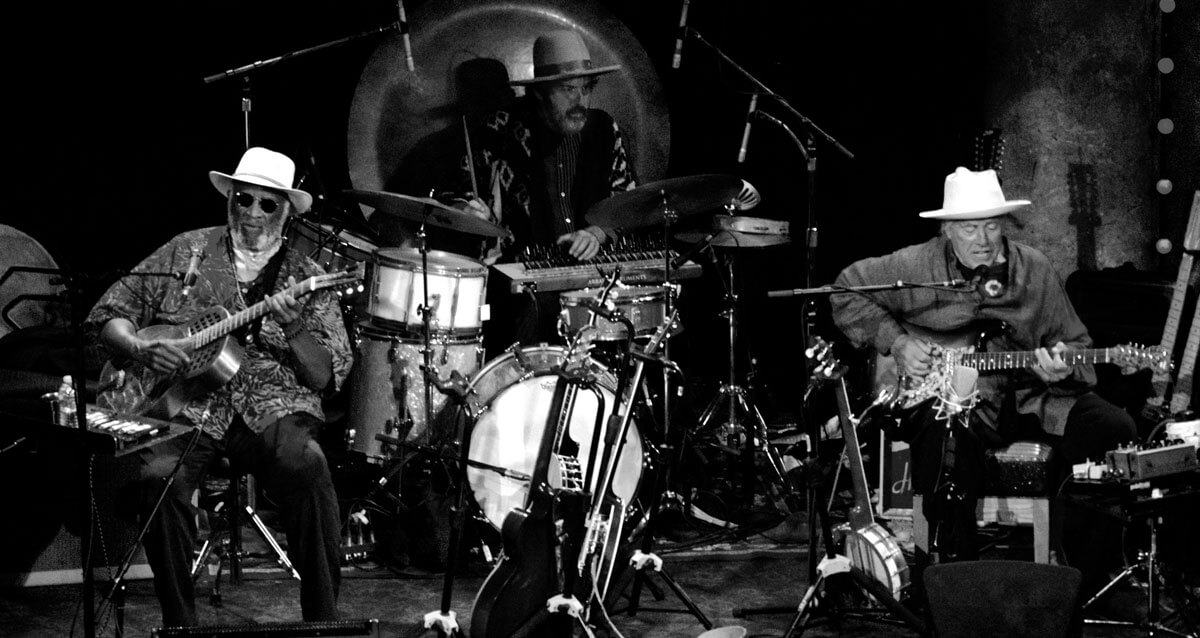 Photo Credit: Ruth Kaiser
Ownership of the Great American Music Hall has changed since then, but it continues to reflect the diversity of its roots, always highlighting current hip acts, like Beach Fossils, Jeff Rosenstock, Black Midi, Amyl and The Sniffers and The Tallest Man On Earth, while providing a space for older acts that have called The Great American Music Hall home in its 50-year run such as Taj Mahal and Ry Cooder who played together for 2 nights earlier this year.
During the pandemic, the Great American Music Hall shut down to reduce its costs as much as possible. They only did a little bit of live-streaming and other activities, like allowing studios to use the space to record bands. During this time, people would sometimes wander in to visit the venue so they could stare in awe at its sophisticated details. Before the pandemic, during the low-lit shows with loud bands, you couldn't always see how immaculate the design was. But in full light, with no distractions, it is mind-blowing.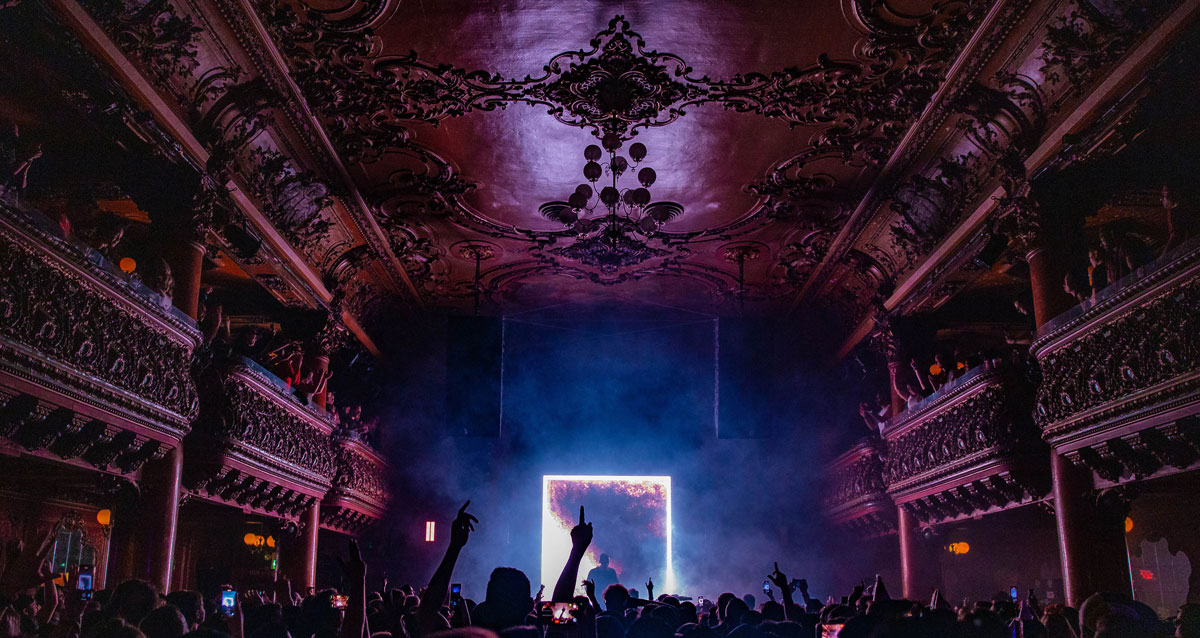 Photo Credit: Rachel Ziegler
Now, coming out of the pandemic, The Great American Music Hall remains fervently independent and continues to book a very diverse group of acts. Great American Music Hall held things together the last 18 months by doing what it's done since the beginning: they pulled together when things got tough. As the club refills its calendar, it's clear just how important they are to the city's live music landscape.
"It's really important, being independent and having the ability to do your own calendar," Barnes says. "The whole history of rock 'n' roll venues, what happened in London and San Francisco in the '60s, what happened in New York in the '70s, every single venue that's involved in that history of rock 'n' roll is an independent venue. You need to have people with a direct connection with the artist and the audience. It's all a melting pot."